Bruce (we'll call him that as he enjoys his anonymity) has just produced a photobook, "a beginner's guide to Brisbane street art" which has been installed in the Bench Café, West End.  The pictorial 'flick thru' is on loan to the café until the end of November.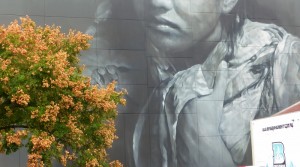 Bruce, a school teacher in another life, developed an interest in street art through accidental encounters while overseas. From Granada to Berlin, from London to Morocco Bruce has been recording murals and graffiti, undertaking workshops and walking countless kilometres on street tours. Always the avid collector Bruce has, at different points in his life, amassed collections of antique postcards, photographs and educational texts –  he has even tried his hand at gold prospecting. The attraction was never ownership, but the excitement of discovering that special something.  It was only natural, that when at home, he would seek out the gems that were hidden in Brisbane streets and laneways. While many may consider street art the dominant art movement of the last forty years, a movement which sought to inject art into the lives of everyday people, Brisbane authorities have not embraced it. For that very reason it is surprising that Brisbane is producing artists of the ilk of Anthony Lister, Fintan Magee, Sofles, Guido van Helten to name but a few.  Many of our home grown artists can rightfully claim their place on the world stage. Research van Helten's Brim Project or read about his mural of Marina Marchenko, the teacher in Avdiyivka, Ukraine and you'll begin to sense the transformative powers of street art.
Bruce readily admits he has no deep knowledge of art and possesses only rudimentary photographic skills. Hence the phrase 'the beginner's guide'. Those of the street scene will see the pictorial as an outsider's attempt to make sense of the local street culture. Bruce is intrigued by the sub-culture whose norms and values are so radically different to those of his generation. Street art, especially graffiti is extremely temporary. A piece that may take many hours to plan and execute may have a life span that can only be measured in minutes. The destruction and replacement of a grand mural seems to leave no resentment or anger, no bloodshed nor vitriol.
In the 'beginner's guide' Bruce has thrown together a smattering of murals, graffiti, stencils, and paste-ups that he has photographed in recent years. The book includes pieces by Anthony Lister, Soffles, Guido van Helten, Mik Shida, Fintan Magee among others. A companion book, 'Brisbane Writers', focuses solely upon graffiti has also been installed in the café.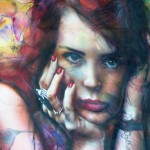 Bruce invites people to have a 'flick thru' while enjoying a coffee at the Bench or a Friday or Saturday night bit-to-eat at the Boundary Street Markets. The Bench café is situated behind the Rumpus Room and Ouzeri at the back of the boundary Street Markets near the intersection of Boundary Street and Russell Street. Viewers are encouraged to add their comments/ graffiti to the inside covers.