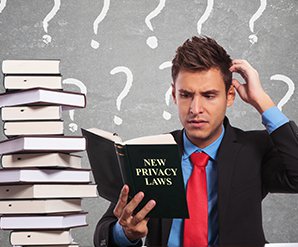 It's been a week since the new privacy laws landed in Australia, so how is your business affected? Read this piece from Local Direct Network to find out what should you be doing to ensure you and your business are on the right side of the law?
Moses had the Ten Commandments. Isaac Newton had the Three Laws of Motion. And as of the 12 March 2014, Australian businesses have the 13 Australia Privacy Principles (APPs for short).
The APPs focus on how businesses collect, store and use personal information. The idea behind them is to go further in protecting the individual's privacy, especially where the collection and use of data online is concerned. This is a big deal for businesses that practice any sort of direct marketing.
The new laws are not to be taken lightly; they give the Privacy Commissioner more power to investigate firms without waiting for a complaint to be made first. With this comes the power to enforce penalties – up to $1.7 million for companies and $340,000 for individuals to be exact.
Pay attention – they'll impact you sooner or later.
The new legislation affects all businesses with annual revenues greater than $3 million who collect personal information from individuals. Those who don't fall into that category, in theory, don't have to comply. BUT – there are some exceptions that particularly target online businesses:
Do you have related entities that are covered overseas with that kind of turnover?
Are you related to companies that make that kind of turnover?
Do you participate in joint ventures?
Do you trade lists? (In other words, do you make money or gains from trading personal information – names, addresses, dates of birth and bank account details?)
Do you have any kind of overseas affiliations?
Even if you don't fall into these categories now, it doesn't mean you won't in the future. So it pays to play it safe and follow the rules anyway.
And we mean all of them.
It's no longer enough to simply tell customers you're collecting their data or include an "opt-out" button on your weekly e-newsletter. You need to tick every single box with the APPs in order to avoid a hefty fine.
But don't panic – it's not difficult to remain on the right side of the new privacy laws. Especially if you already have many of these practices in place. You simply need to take the time to read the legislation carefully and note any specific areas that may affect your business. Then do a quick audit of your business to identify exactly where and how you deal with personal information. If you are unsure, we certainly recommend seeking professional advice to avoid any pain in the long run.
To help, here are seven questions every small business owner should ask themselves:
Do I need to collect this information? If you don't need to ask for their address, household income and inside leg measurement – don't ask them for it. Only collect information you need to run your business better.
Do I tell my customers what I'm collecting and why? A big part of the new rules is transparency. You need to ensure that your customers know what information you collect and why. A good practice is to tell them at the point of collection and include a link to your privacy policy (which should be reviewed and updated, by the way).
Do I need my customers' names? Wherever possible, you should provide your customers and prospects with the option to stay anonymous. If this isn't practical – for example, you need information for delivery purposes – that's okay, but think carefully about what information you are collection and why.
Is it easy for customers to opt out? The APPs aren't in place to stop marketing efforts (phew!) so of course you're allowed to use personal information for direct marketing. But you should always include a simple opt-out process – such as a tick box on a form or an unsubscribe button on your e-newsletter.
Will information be sent overseas? Another big change to the privacy laws relates to the overseas use of information. You need to take "reasonable steps" to ensure the principles are not breached overseas. If this applies to you, we strongly recommend reading the APPs for more information.
Do I still need this information? Some businesses hoard information. They collect and collect and collect for years until much of the information is outdated or irrelevant. It's good practice to assess and destroy information you no longer need, didn't ask for or didn't collect in the first instance.
Is this information sensitive? Collecting sensitive information can lead you into some messy situations. Wherever possible, avoid collecting any sensitive information on your customers and prospects.
What are you waiting for?
The APPs are already here, so you must be fully compliant now to avoid hefty fines. 
To help small businesses make the most of their marketing and create winning letterbox promotions we have hundreds more small business marketing ideas & examples updated regularly on our website. Follow us on Facebook, Twitter, LinkedIn or Google+ for article alerts. 
By Ryan Christie – Marketing Manager – Local Direct Network (LDN)
Ryan heads up all things marketing at LDN. Driven by the power marketing can bring to small business; Ryan's key objective is to provide SME's with the latest relevant information & tools to ensure their letterbox advertising is successful and helps grow their business. Now and again you can find Ryan on Google+ and LinkedIn.