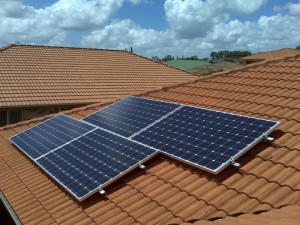 The State Government Bonus Scheme of 44c per KW expired last year, but that hasn't stopped thousands of Queenslanders from installing PV power every month, according to West End's Local Power collective.
Here's an edited version of their latest newsletter.
Actually, solar is alive and kicking. The 44c Solar Bonus Scheme (Feed in Tariff) has been gone for new applicants since July 2012 and yet South East Queenslanders are still installing Solar PV in over 2000 premises each month.
In 2015, instead of putting on as large a system as possible, it's now most economical to match your solar generation to your usage. With black electricity costing 27.9c/kWh, every unit of electricity you consume from your solar system is "paying" you 27.9c/kWh. In addition any surplus sent to the grid receives 6-8c/kWh depending on your retailer.
This means your Solar PV system will pay for itself in around 5 years. Having said that many people still opt for larger systems, which costs just a little bit more, and give them flexibility for their changing renewable electricity needs (adding aircon, pools, moving from gas appliances to electric, and plugin hybrid and electric cars).
Peace of Mind
The products Local Power supplies have a quality "second to none" and this is reflected in the improving manufacturer's warranties. After all, the point of having solar on your roof is to generate as much renewable energy as possible for as long as possible.
Firstly, because Local Power is a Certified REC installer, our Singapore made REC panels come with a 12 year workmanship warranty instead of 10 years. REC is also unique in the market because their panels have a very low Energy Payback Time of around 1 year. This is the amount of time it takes for the panels to generate all the energy used to manufacture the panels.
Secondly, Fronius our preferred Austrian inverter manufacturer, has recently extended their standard 5 year warranty (which covers parts and labour) to 10 years (covering parts for the additional 5 years).
Finally, Local Power installs Solar PV system monitoring on all systems, to give additional peace of mind that the system is operating at all times. This is free on all Fronius inverters and on all ABB inverters 3kW and above (Internet required).
Introducing Trina panels
Trina is a company that has been around for many years and proven themselves by becoming the largest panel manufacturer in the world in 2014. In addition to our REC panels with Fronius inverters, Local Power is now also offering Trina panels with ABB inverters. This lowers the cost of Solar when the budget is tight and reduces the years of financial payback even further. We still also offer German made SMA inverters and also SolarEdge inverter technology.
Commercial Solar
With residential solar installed on around 27% of detached homes, commercial solar is the next big growth area. In South East Queensland we have thousands of hectares of roofs on offices, factories and warehouses.
Local Power is very pleased that Food Connect selected us to install their 11kW system recently.   Please let us know if we can assist your business to go solar.
Electricity competition
In 2014 the Newman government deregulated electricity prices for the Southeast corner, which will start on 1 July 2015, meaning the "market" (mainly the big 3 electricity retailers) will now decide our electricity prices.   http://www.news.com.au/national/breaking-news/qld-govt-to-deregulate-retail-power/story-e6frfku9-1227054430077
More important than ever will be impartial information for electricity consumers. The Queensland Competition Authority (QCA) has put together a website which compares all the electricity offers from all the electricity retailers. It sometimes pays to shop around to get better rates on your electricity, however if you already have solar installed, please take care in choosing.   http://comparator.qca.org.au
Community
Local Power was founded in community back in 2007 and has always "given back". We are pleased to announce that with every Solar PV system sold between now and the end of April 2015 we will donate $200 to RSPCA Qld.
Website and Facebook
You can visit us at our website at http://localpower.net.au. You can also converse with us on our Facebook page at http://facebook.com/localpower4101 where we post regularly relevant solar information and articles.
Contact
We look forward to keeping in touch. Please contact us if you ever have any queries regarding solar power on 07 3009 0615 or info@localpower.net.au