A year ago, proposals to pump 11,000 residents and 8,000 office workers into a new neighbourhood dominated by 54 tower blocks rising to 40 storeys were greeted by gasps of astonishment from the paying audience of normally shock-proof development and investment executives. The proposal was the City Council's draft Kurilpa Master Plan occupying 25 hectares between the river, South Brisbane and West End. Now the new state government has scrapped the controversial scheme, and is actively considering an alternative plan prepared in collaboration with the local and wider communities.
Kurilpa Futures Campaign Group Spokesperson, Phil Heywood, an Adjunct Associate Professor in Community Planning in QUT, explains:
"We wanted to involve local people and design professionals in developing a better plan. This led to the May 17 Kurilpa Future Ideas Forum attended by 165 locals and professionals from round the city. Opened by the Hon. Jackie Trad, Deputy Premier and Minister for Planning, this carefully structured process of deliberative democracy produced a very different vision for Future Kurilpa, offering a good model for community participation for the new Better Planning Act, now in its consultation phase."
Half the area would be developed for open space, including riverside play and viewing areas and a new Kurilpa Nature Park of subtropical plants and wildlife. Linked to overflow swales, accommodating walking and cycling paths, this would form a very necessary water retention basin for the predominantly flood prone area and also help to solve lack of open space in the city centre and West End.
Instead of 40 storey tower blocks, an eight-storey height limit would restrict new buildings to 30 metres. Spacing of buildings would ensure sunlight for all the one thousand new garden apartments, clustered around small open spaces with learning, health and play activities.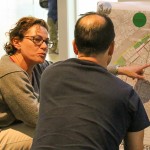 "The new neighbourhood's heritage of indigenous, cultural and creative industry activities would be enhanced by Aboriginal art trails linking to the Musgrave Park Cultural Centre. Inexpensive start up spaces for design, computer and related activities would be supported in the industrial heritage of the Foggitt Jones and ACI offices buildings," said Mr Heywood.
There would only be one parking space per dwelling and walking and cycling would be encouraged by giving them priority and limiting car access. Community transport would link the area to the Art Gallery busway and South Brisbane railway stations.
On implementation, Mr Heywood added:
" A Priority Development Area under the control of a public agency, like the former South Bank Corporation, could be managed by Economic Development Queensland which successfully developed Fitzgibbon and Hamilton North Shore. Our land use guidelines also open the way for a possible open design competition."
'The wider significance has not been lost upon voters across the inner city" added Mr Heywood. "The recent 300 hundred strong West End March and Rally, demanding better development attracted nearly a hundred supporters from Spring Hill, Toowong, Paddington, Woolloongabba, Yeronga and Calamvale. Their concerns will only increase in the lead up to the next Council elections in February".
The Ideas Forum Report was presented to Deputy Premier Jackie Trad on the 5th August, and to Lord Mayor Grahame Quirk on the 11th August. See details of the meetings here.