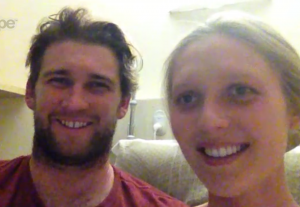 In December 2012, Elke, 26 and partner, Danjels Reedman, 29, visited a friend in a village in Bali, Indonesia. With stray chickens, dogs roaming freely through the huts and a picturesque view of the beach, the tiny village was a tropical paradise for the couple.
However, as soon as they arrived, Elke started experiencing sickness and fatigue. Elke's jaw swelled up on the right side of her face where she experienced migraines and a lot of pain.
"I started to think about what was going on, since I was sick almost the entire trip. It was really heart wrenching and little did I know, that was the start of what's so far been a two and a half year nightmare," Elke said.
When Elke and Danjels returned to Sydney in January after their five-week holiday, Elke was still sick.
The illness carried through to February and they began to realise something was wrong. The couple started consulting doctors and specialists to diagnose her illness. But none were able to accurately identify her sickness.
"Every appointment I went to was so horrible because it's one of those diseases that suppresses your immune system. Since the immune system is in a chronic state, it suppresses my ability to produce antibodies and so when they conduct tests, it doesn't show up. As I was becoming more and more unwell, doctors were telling me that there's nothing wrong with me because my blood results weren't showing anything," Elke said.
"When they couldn't find anything wrong with me medically, they said that I should consider seeing a psychologist because they said that the anxiety I had was creating an illusion of medical illness," she said.
In August, as Elke was driving to work she passed out behind the wheel – the illness was beginning to take its toll.
The couple continued their search for a diagnosis for over a year as her condition deteriorated.
Elke was forced to take leave from her job at the ASX (The Australian Securities Exchange) and her Masters studies.
Finally, in November 2014, her blood was positively tested for Lyme disease by Australian Biologics.
"It was frustrating because it took a long time to get a diagnosis and from then on we've been trying to deal with it," Danjels said.
"It took us a while to find a doctor who was willing to treat her and whenever we used to bring it up with GPs they wouldn't know anything about it," he said.
"After it was confirmed by her blood tests that she had Lyme disease, we were treated with hostility and disregard by many doctors. It was almost as if they were going to get into trouble if they looked into it too much."
Lyme disease is a tick-borne infectious disease caused by a bacteria of the Borrelia species.
Fatigue, chills, fever, headache, muscle and joint aches are some of the common symptoms of the disease, which is an increasing health burden on the Australian community.
The endemic presence of Lyme disease in Australia has been confirmed by positive serological and molecular testing of blood samples taken from symptomatic patients who have never been abroad.
Despite this, Lyme disease is not officially recognised in Australia. As a result, Medicare does not cover treatment of Lyme disease and its co-infections.
In Elke's case, her treatment is expected to cost more than $70,000, even though she is an Australian citizen and taxpayer.
Lyme Disease Association of Australia president, Sharon Whiteman says the denial of Lyme disease in Australia is defended by a 20-year-old government-funded research project that failed to detect Borrelia burgdoferi, a common North American strain, in Australian ticks.
"Lyme disease and vector borne diseases are found on every continent in the world. The study looked for three strains of Borrelia in ticks in Australia. The research has progressed, it's now known that there are over a hundred strains in the US and there are 300 strains globally. We only looked for three North American strains in that study and we couldn't find any. That's not scientific grounds to deny the existence of Borrelia. It could be our own unique strain here," Ms Whiteman said.
"We had 312 patients submit to our 2012 survey – 25 per cent of those had never left the country. I spoke to a Lyme doctor recently who says 40 per cent of his patient group have never left the country," she said.
"Right now we have 1200 Lyme patients who have self-reported to us and confirmed that they have been medically diagnosed with Lyme disease by a doctor,"
"Ultimately, it's a conundrum because the government says that doctors are fine to treat Lyme disease if they follow within practice guidelines. But there are no practice guidelines for Lyme disease so if they treat the disease it falls outside average GP guidelines. Therefore there is a precedent of two GPs in Australia who have had license restrictions placed on them against treating Lyme disease."
Speaking about Lyme disease in Australia, a spokesperson for the Australian Medical Association confirmed its position that there is insufficient evidence to prove the existence of Lyme disease in the country.
A spokesperson for the Federal Department of Health says the chief medical officer, Professor Chris Baggoley, convened a Clinical Advisory Committee on Lyme Disease (CACLD) to provide advice on the evidence for Lyme disease in Australia.
In an email response, the spokesperson wrote "So far there is no conclusive evidence of an etiological agent and competent vector in Australia and problems with the accurate diagnosis of Lyme disease or an Australian Lyme disease-like syndrome."
However, in the progress report submitted by CACLD, Professor Baggoley states "further research is required to determine if Borrelia bacteria are present in ticks in Australia,"
Professor Baggoley further reports "The development of appropriate laboratory diagnostic method and treatment guidelines will remain difficult until a causative indigenous organism for a Lyme-disease-like syndrome is characterized."
Australian Biologics Testing Services director, Jennie Burke, says there are three separate technologies for testing Borrelia – Polymerase Chain Reaction or PCR test, RecomLine ImmunoBlot testing and EliSpot LTT.
Australian Biologics tested Elke positive with the PCR test which conducts DNA testing for the organism.
"All three types of testing do find positives in Australian patients. It is not unusual for us to find all three tests negative in many patients and at times we might have a positive result in all three tests for some patients," Ms Burke said.
So far Australian Biologics have tested 125 positive patients out of 576 for Borrelia using ImmunoBlot testing, 158 positive patients out of 512 by EliSpot Borrelia test and out of 3851 patients tested by PCR 916 were positive and 255 gave equivocal results.
"The AMA does not recognize the presence of Borrelia in Australian patients. This contradicts the results that we see," Ms Burke said.
"There is quite a lot of literature that has shown that a Borrelia infection has a rather devastating effect on a patient's immune system and once the immune system is depressed, the patient may not produce the required antibodies, therefore diagnosis using routine testing is often inadequate," Ms Burke added.
Currently living in Cronulla, Elke and Danjels travel between their home and hospital, constantly fearing the unknown.
"It's just so hard, knowing that I have to deal with being sick and I have to source, organise and finance my own treatment. They make me feel like I'm purposely hurting myself by trying to treat a non-existent disease which is causing actual problems," Elke said.
With tears pouring down her face, Elke reflected on the support she received from Danjels when she was admitted at the hospital for an emergency life-saving surgery.
"I wouldn't even be alive if it wasn't for him, if he wasn't around, I could've swallowed my tongue. Two months ago in my near death situation with my intestines, he was there for me. I don't know how he's still with me, we haven't been able to do anything for so long and I feel so bad that I can't do anything for him. He's the best," she said.
Elke's mother, Barbara Krieg, says that they've still got a long way to go as far as the funding is concerned especially since it's not covered by the government.
"There's always a constant worry, a constant fear for the unknown," Barbara said.
To raise funds for Elke's treatment and to raise awareness about the disease, Elke's friends started the website http://www.helpsaveelke.com