On Sunday 18 June, residents gathered in West End's community hall to debate the merits of the proposed Temporary Local Planning Instrument (TLPI) Plan for the Kurilpa Precinct and strongly rejected the plan and its process. If accepted by the State Government, the TLPI will allow new residential buildings to be built up in areas with no limits to height (up to ninety storey towers) and will allow for a population density that would be eight times that of Manhattan.
Brisbane City Council (BCC) and the State Government have so far not provided any opportunity for residents to comment nor provided any public consultation process for this substantial growth plan. The Forum sought to inform the local community about the details of the TLPI Plan, and to provide time for small group workshops to allow people to share their concerns and issues.
The public forum was jointly hosted by local community groups Kurilpa Futures and West End Community Association (WECA), just one week after BCC's public release of its TLPI for the Kurilpa Precinct. The Forum held in AHEPA Hall on Boundary Street, was attended by over 150 residents and assisted by twenty-five local volunteers, organisers, scribes, and facilitators. Ninety additional people watched the livestreamed meeting, and over 250 people have watched it since.
Eminent community planner, Dr Laurel Johnson facilitated, and presentations were made by four residents, three of whom are professional consultants:
Seleanah More (town planner, WECA President) 
Maurice Mc Callum (long-term resident and Kurilpa Futures member)
John Mongard (local business owner, urban designer and community planner, and Kurilpa Futures member)
Adrian Sains (local engineer, Riverpoint body corporate member)
'It was fantastic to be with about 100 community members on Sunday to listen – something the LNP Brisbane City Council hasn't and won't do with this TLPI: Kurilpa," Gabba Ward Councillor Trina Massey said after the event.

"What I heard on the day was: Where is the community consultation? How is this sustainable?  Where is the social infrastructure – like planning for schools? These are the questions the community is asking and expecting answers to from Council. This is why the community is working so hard to get Steven Miles to say No to the Kurilpa TLPI".
A Question-and-Answer session allowed residents to ask questions addressed by the four speakers. Elected representatives (Local, State and Federal members) attended and gave short comments on the TLPI and the process.
Residents raised a substantial range of issues and impacts but were unable to produce any positive comments about the proposals. Many said they could not believe they had not been given an opportunity to be consulted on such a massive development proposal and were staggered to learn of the potential number of additional people, cars and buildings resulting from the TLPI.
"Our community is emerging from the shock of this madness by BCC. Ninety storey buildings in a flood plain in the name of affordable housing (10% off market rate for only a five-year period is a sham) and green design in exchange for density is not responsible planning," WECA President, Seleneah More said.
The level of concern and anxiety within the Forum related to the range of real impacts that residents foresee from the TLPI. People were unable to comprehend how residents would be able to escape from the large number of very tall apartments during the next flood, or how Council and the State Government would fit the required open spaces, schools, and infrastructure. The plans offer no solutions to these impacts.
Three questions were debated by residents:
What impacts are most significant to you?
What should happen next?
What feedback should we give The Lord Mayor and State Government?
What residents are most worried about?
An extensive range of impacts were identified by residents straddling social, environmental, and planning issues. The five most important and recurring concerns are:
The negative impact from excessive population increases on social infrastructure and liveability, in particular on demands for:

schools, childcare, and health services
public greenspace and biodiversity
community, wellbeing, and social connectedness
active transport accessibility and safety

The risks associated with building on a floodplain for residents and emergency services.
Unacceptable environmental impacts, particularly as our climate changes, including the creation of heat islands, extreme over-shadowing and the long-term impacts of construction.
Affordability, increasing rents, loss of population diversity, and loss of mixed small businesses.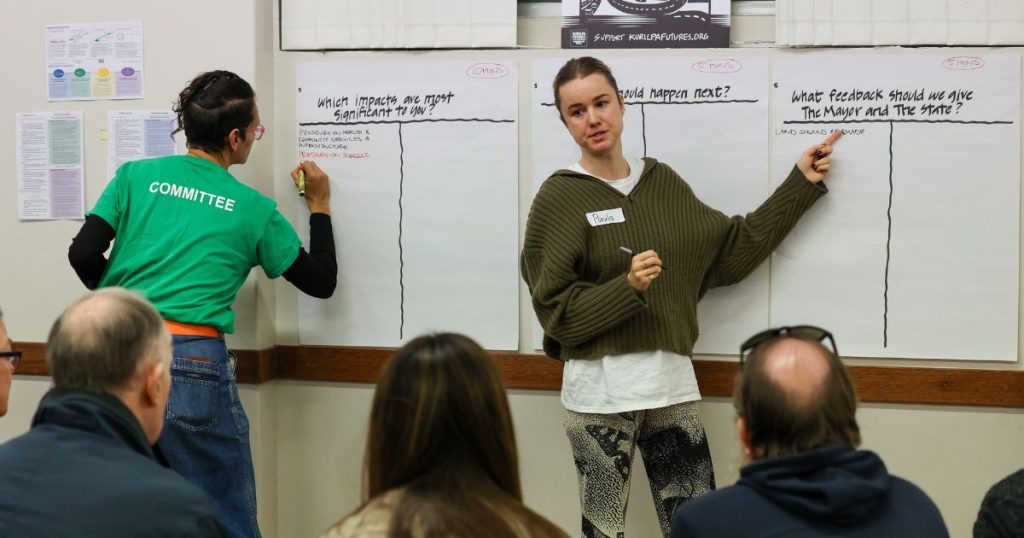 What should happen next?
Residents considered ways to inform politicians and decision-makers and creative processes to further engage local residents and workers. There were no comments supportive of adopting the TLPI, and many suggestions focussed on how the Plan could be prevented.
The most frequently mentioned 'next steps' were to design a campaign for a future growth plan that:
Focuses on the issues of affordable housing and flood risk.
Demands a community benefits framework and presents an alternative model.
Builds a coalition of community organisations, including unions, tenants and people impacted by homelessness.
Develops clear and concise messaging and a social media campaign to pressure decision makers to reject the TLPI.
What feedback should we give The Mayor and State Government?
Feedback clearly indicates that government needs to listen to the community and allow people to have a say on a plan that creates massive growth and change. The actions of politicians show their allegiance – in this proposal the community believe that developers interests are being favoured over those of residents and that this has to be called out. Medium density growth within a sustainable and planned framework is all that local people have asked for in this neighbourhood over the last twenty years. No -One wants ninety storey towers: in any part of Brisbane City, let alone in any of Brisbane's inner city residential suburbs.
Residents identified key messages for the Mayor and the State Government including:
Where is the evidence supporting this new plan, and how it translates into affordable housing?
What is the State Government's strategy for housing access and affordability?
Tell the decision-makers we are not NIMBYS, we are QIMBYS (Quality in my Backyard) and need a plan for the whole of Brisbane, not just for Kurilpa.
We do not want a TLPI as a compromise: the plan is flawed and should be rejected.
Keep the current SBR Neighbourhood Plan which is your contract with us for planning in our local area.
Where is the infrastructure to accommodate the equivalent of a Toowoomba population in Kurilpa?
How can state, federal and local government mitigate the flood risk impacts in this plan?
The TLPI is seen by local residents as a solution without an actual problem: a TLPI is intended to be utilized in response to a very significant risk, and there is no evidence that the massive oversupply of units in one riverfront precinct is a solution to Brisbane's housing crisis.
Residents believe the existing Local Area Plan provides for all the growth and sustainability needed into the future, and that affordable housing provisions can easily be added and created by government, within the approved plan. The TLPI is seen by the community as an unnecessary Plan, one seeking to provide developers with unlimited opportunities for density and profit.
"We call on BCC and the developers they serve to provide the evidence of their claims that this TLPI is mitigating a risk, is sustainable development and will provide affordable housing," Ms More said.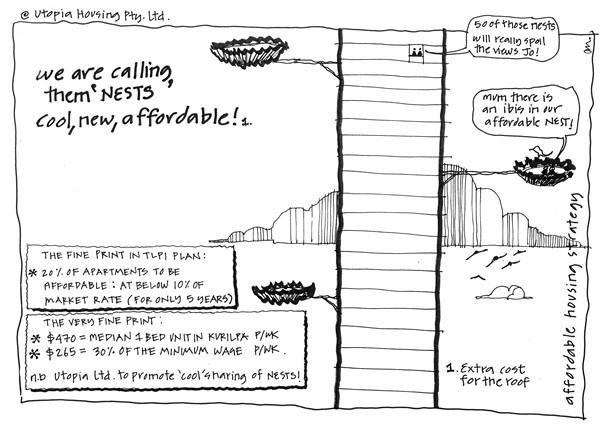 The Deputy Mayor met recently with local community groups regarding Brisbane's Inner-City Strategy, prior to releasing any details regarding the Kurilpa TLPI plans. She was asked why tall tower growth precincts could not be evenly distributed across all the city's transit-oriented nodes (Garden City, Indooroopilly, Chermside etc.) in accord with the current BCC City Shape plans: she replied that this would not be happening. It is no wonder residents at the Forum felt like there had been a stitch- up, where excessive high- rise towers were proposed to be jammed into Kurilpa and four other inner-city neighbourhoods so that middle to outer suburban residents in Liberal voting areas were not faced with such massive impacts.
"Many residents question what is wrong with the current plan: the Local Area plan has plenty of life in it, since most sites have not been developed to their potential in the Precinct, with many sites remaining as they were 10 years ago," Dr Johnson said.
"How does this TLPI expedite a constrained construction sector when private investment is very cautious at the moment and the land is so expensive in this location: it doesn't make sense for the property economics".
Residents at the forum were angry about these unprecedented and hidden growth plans, released and promoted in very small portions by favourable media outlets. The TLPI appears to residents to have been fast tracked through City Council to minimise any comments by residents. Locals indicated their willingness to take more direct action in coming weeks. Kurilpa Futures and WECA are promoting a petition to the State Government, asking the Minister to refuse the Lord Mayor's TLPI. After one week, the petition has received over a thousand signatures.
The Urban Land Institute is currently advertising an event titled 'Kurilpa and beyond: The key to unlocking Brisbane's 5 priority growth precincts', despite the TLPI plan still being considered by the State. Is the Kurilpa TLPI the precedent for a massive change in the City, to be fast tracked in the name of the Olympics, and justified by a city-wide housing crisis?
The Planning Minister Steven Miles must now decide whether the TLPI is required to meet an urgent affordable housing risk. The fate of Kurilpa lies in his hands.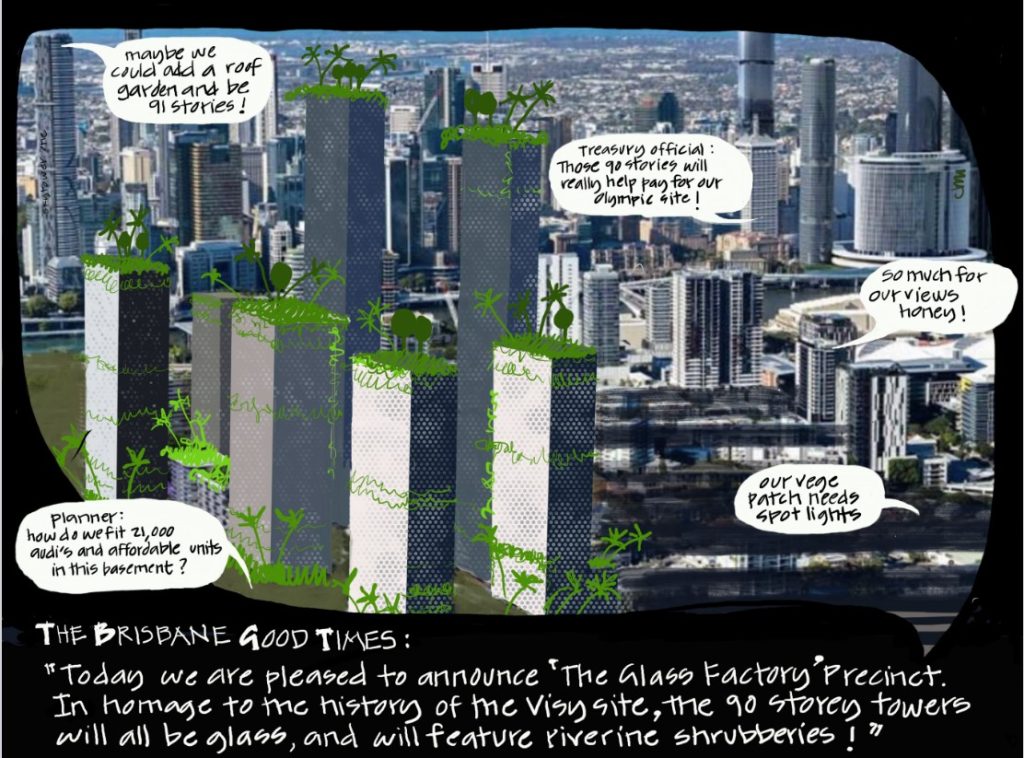 ---
RELATED STORIES
Solving Brisbane's housing crisis.
Cover image by Neil Waters