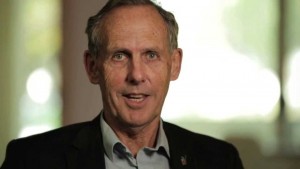 Each year the International Day of Peace is observed around the world on 21 September. The General Assembly has declared this as a day devoted to strengthening the ideals of peace, both within and among all nations and peoples. The theme of this year's commemoration is "Environmental sustainability" which aims to highlight the importance of all segments of society to work together to strive for peace, as there can never truly be peace without a sustainable environment.
This lecture will be an excellent opportunity to raise awareness of environmental sustainability for peace, leading to the upcoming climate change negotiations which will take place at the Conference of Parties (COP 21) in Paris at the end of the year.
This year, the lecture will be presented by the former parliamentary leader for the Australian Greens, senator and environmental activist Dr Bob Brown.
Previous prominent speakers have included Leneen Forde, former Governor of Queensland, Honourable Michael Kirby, international jurist and Professor Larissa Behrendt, author and aboriginal activist.
4TH ANNUAL INTERNATIONAL DAY OF PEACE BRISBANE LECTURE
Keynote address Dr Bob Brown
"No peace without a sustainable environment"
St John's Cathedral, 373 Ann Street.
Monday 21 September 2015 from 7:00pm – 9:00pm
All welcome. Free event. Supper provided. RSVP essential: unaa.qld@gmail.com
PROGRAMME
INTRODUCTION:  Clem Campbell, OAM, Queensland President, UNAA, on the 70th year of the United Nations, the Global Compact and Earth Charter.
WELCOME:  Bishop Alison Taylor
TEA CEREMONY INTRODUCTION:   Susan Forbes
JAPANESE CHADŌ TEA CEREMONY:
UNITED NATIONS SECRETARY GENERAL'S STATEMENT:  Read by Christopher Woodthorpe, Regional Director, Australasian United Nations Information Centre.
CHORAL WORKS:  Brisbane Combined Unions Choir and Songlines Community Choir.
SPEAKER INTRODUCTION:   Dr Michelle Maloney
SPEAKER:  Dr Bob Brown
VOTE OF THANKS:   Dr Noel Preston.
CLOSING REMARKS: Clem Campbell, OAM.
CHORAL FINALE:  Brisbane Combined Unions Choir and Songlines Community Choir.
SUPPER