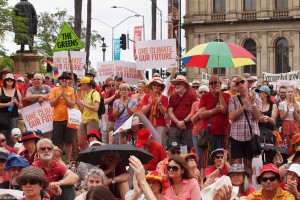 In December 2015, world leaders will gather in Paris for the United Nations Climate Conference.
To coordinate with the talks, Peoples' Climate Marches are planned across Australia.
The Brisbane rally will start at Queens Park in the city at 9.30am on Saturday November 28, with a Climate March After Party  hosted by Wandering Cooks's at their Paris Climate Bar from 12.00 noon.
The Paris Climate Bar is to be the official meeting point and conversation place during the two weeks of the Paris Climate Talks.
On Saturday evening, November 28, the Paris Climate Bar will launch a video installation by Alinta Krauth and CAT (@ClimateArtsTeam), with the theme #ExxonKnew. The work depicts the recent investigation by Inside Climate News that revealed the extensive 1970's-1980's Exxon scientific study into global warming and the subsequent corporate cover up.
With the start of the official UN talks later in the week, visitors to the Bar can participate in sessions on climate change science and sustainability to be held throughout the Paris Conference.
Well-known campaigners and "people in the know" will Skype live from Paris to provide an insiders' view of the daily happenings on the ground.
Wandering Cooks are at 1 Fish Lane (corner of Fish Lane & Cordelia St) in South Brisbane.
Sessions times and booking details for the Brisbane Climate Talks are at the event site.