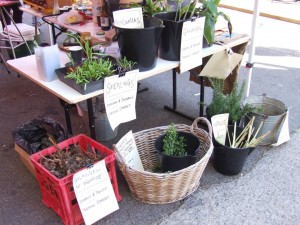 What would you think if you were strolling through Bunnings and someone offered you a free lawn mower?   Or through Colesworths and the price on the cauliflower was $0? What would you think and what would you feel? Would you, for example, feel wary and wonder if it came with a catcher or just a catch? And what's your first reaction when a stranger greets you in the street with a smile and the offer of a handshake? Do you smile and cut to what you think is the inevitable chase with an "I'm sorry, but I don't have any money that I can give you"?
Now let's image it's not Bunnings but my friend Marco and he's giving me that lawnmower he doesn't need and he knows I do – and god knows I've helped him out many a time at any rate.   And it's not a backpacker on a working holiday and a commission but a friend who's lost their phone and is in town for the weekend. It makes more sense that way doesn't it.
On Sunday last a small group of Kurilpa water rat-bags confused and delighted patrons at the Real Farmers' Markets on Boundary Street in West End by giving away local produce and genuine smiles. Under the ever present banner of the West End Community Association (WECA) The Real Farmers' Markets hosted its first "Kurilpa (that's the proper, aboriginal, name for West End and surrounding suburbs) Local Produce Exchange Stall" and in financial terms it was an abject failure. Nothing got sold and the staff didn't even get paid.
On offer were: fruit and vegetables, including pawpaws, passionfruit, eggplant, grapefruit, and oranges; herbs, including rosemary, lemongrass, thyme, and tarragon; manufactured products, including marmalades, chutney and honey (manufactured by the bees); and things to nurture the garden, compost, wood ash, worm juice fertilizer and coffee grounds. Despite the high quality and range of products not even a dollar was raised – to the great satisfaction of the organizers.
This is what happened.   After David Bostock who runs the markets took up the suggestion for a local produce exchange and offered a stall for the purpose all sorts of folk set to work to make it a reality putting out the word and lining up produce. "It's a point of difference with other markets" says Bostock "and it takes the philosophy of Farmers' Markets to another level. You don't get more local or any more personal than that."
Then when the stall was up and our first "customers" tried to buy some local honey – unsuccessfully – we were off and running. I don't know if they were more confused than happy or the other way around. If the first milestone was setting up the stall and our second was pleasing our first patrons then our third was when Melissa turned up with a basket of home grown eggplant, passionfruit, herbs and chilies.
"Good god it's working" we thought. And that wasn't the only incoming traffic. Worm juice fertiliser, more herbs and more preserves turned up later in the day and each came with the proud smile of the producer and a story about how it came to be there. When a visitor was heard to say "hey, there's lemon myrtle from Jeff in Edgar Street" we knew another milestone was behind us.
Now you might expect people to exploit the chance at free stuff by taking as much as they could get their hands on but the opposite was true. "You're going to need more macadamia nuts than that" said I and "Oh but I should leave some for others" always seemed to be the reply. And if we were going to confuse the patrons of the markets how would the vendors take it? One such vendor was so annoyed she couldn't help contributing some of her own yummy treats and selected a nice big hug to take away in exchange.
Maybe a lot of folk hanging around chatting isn't the best for making sales but since nothing was for sale that didn't bother anyone. In fact it was positively encouraged. Sharon brought a three burner gas cooker along. I brought the kettle and when Meredith produced a frying pan and started mixing up a pikelet batter it was on for young and old. Friends met friends of friends, various spreads were sampled, tea was sipped, and gardening, beekeeping and food preparation secrets were shared by visitors like soviet spies on a vodka binge.
"Blanch the warrigal for 10-15 seconds"
"Bees should do well at your place"
"Just plant the galangal root and keep it wet for a bit"
"Use some bluetack and a hammer on those macadamias"
Local produce news got around as well.
"Those tamarinds on Dornoch Terrace won't be ripe for a few weeks yet"
"Passionfruit vines are dying off at the moment"
And the next milestone?   I reckon it's making this stall a sustainable institution in our community and that probably means spreading the organizational workload and making sure the stall operates each and every weekend. So who wants to join a working group and be part of the worst and yet the most successful business model around? Find us on facebook under "Kurilpa Local Produce Exchange". That or we'll see you in person next Sunday.