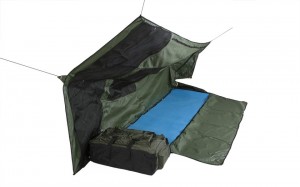 This year, more than 40,000 Australians will sleep on the streets, without adequate protection from the elements, as the underpasses, bridges and park benches of our cities turn into Death Zones for the homeless.
This is why Swags for Homeless, an Australian not-for-profit charity, is launching a campaign asking all Australians to help them Stop the Death Zones.
Swags for Homeless provides Backpack Beds to homeless people on the streets without shelter. The Backpack Bed keeps homeless people alive while they are waiting for shelter. With a life saving Backpack Bed for every street sleeping homeless Australian, we could put an end to Death Zones.
International Humanitarians and Swags for Homeless Founders Tony and Lisa Clark argue that lives could be saved by granting funding for by providing more of their globally awarded, Backpack Bed – an emergency crisis solution designed to keep the homeless warm, dry and alive whilst awaiting shelter.
The program has been implemented in seven different countries, and Backpack Beds are now used by over almost 400 welfare agencies across Australia. However, Swags for Homeless are still waiting on Government funding to ensure that all street-sleeping homeless have this life saving crisis solution as a bare minimum.
"We're asking Brisbane to join us to 'Stop the Death Zones' once and for all by helping us meet the desperate demand for Backpack Beds for every street-sleeping, homeless Australian person. Let's stop people dying needlessly in our cities' many Death Zones", Tony said.
For more information, please visit
www.stopdeathzones.org
www.BackpackBed.org