"Professional and community trust in planning is damaged when administrative discretion is perceived to be used to achieve market outcomes."
So said the then fourth year University of Queensland town planning student, Ms Melanie Kwok, when she completed her Honours Thesis late in 2015.
Ms Kwok found that there is what she terms a 'crisis of trust' in Brisbane's planning system.
Ms Kwok was reflecting on stakeholder engagement in the Kurilpa Point Riverfront Renewal Master Plan and its subsequent call-in by Deputy Premier, Ms Jackie Trad.
Now, with the proposed call-in of the West Village development at the old Absoe site in West End, Ms Kwok's findings must offer Brisbane City's planners further pause for reflection.
Through her studies, Ms Kwok developed an interest in placemaking and community planning. She is particularly interested in the importance for stakeholders of engagement that leads to acceptable and sustainable planning outcomes.
Ms Kwok said that tensions arise in Queensland's performance-based planning because the system allows for local government planning officers to exercise "administrative discretion" when assessing developments, enabling them to negotiate directly with development applicants. This means, she told The Westender, that Planning Officers can recommend the approval of developments that fall outside of community expectations as set out in agreed neighbourhood plans.
Two acts of administrative discretion informed Ms Kwok's choice of topic. They were:
The public debate which surfaced in February 2015 when opposition City Councillor Milton Dick claimed that an audit conducted at Kurilpa Point showed that many developments  approvals (14 of 16), were inconsistent with the South Brisbane Riverside Neighbourhood Plan; and
The withdrawal of the draft Master Plan in March 2015 by the then new Deputy Premier of Queensland, Jackie Trad.
During her research, Ms Kwok interviewed a range of stakeholders including the then Gabba Ward Councillor, Helen Abrahams, representatives from the West End Community Association (WECA) and the Kurilpa Futures Campaign Group (KFCG). She also conducted a survey of residents and spoke with representatives from an anonymous property industry organisation, and public and private sector planners.
Ms Kwok told The Westender that she was surprised to find that while there is a perceived 'crisis of trust' in the procedural processes of Brisbane's planning system, people do trust Brisbane City Council's town planners themselves. Ms Kwok thinks this is the case because, "there is a high level of understanding among the different stakeholders that planners are professionals, and, therefore, will act according to the best interests of intergenerational equity". However, Ms Kwok said, "the political context can constrain their expertise and judgment in planning decisions".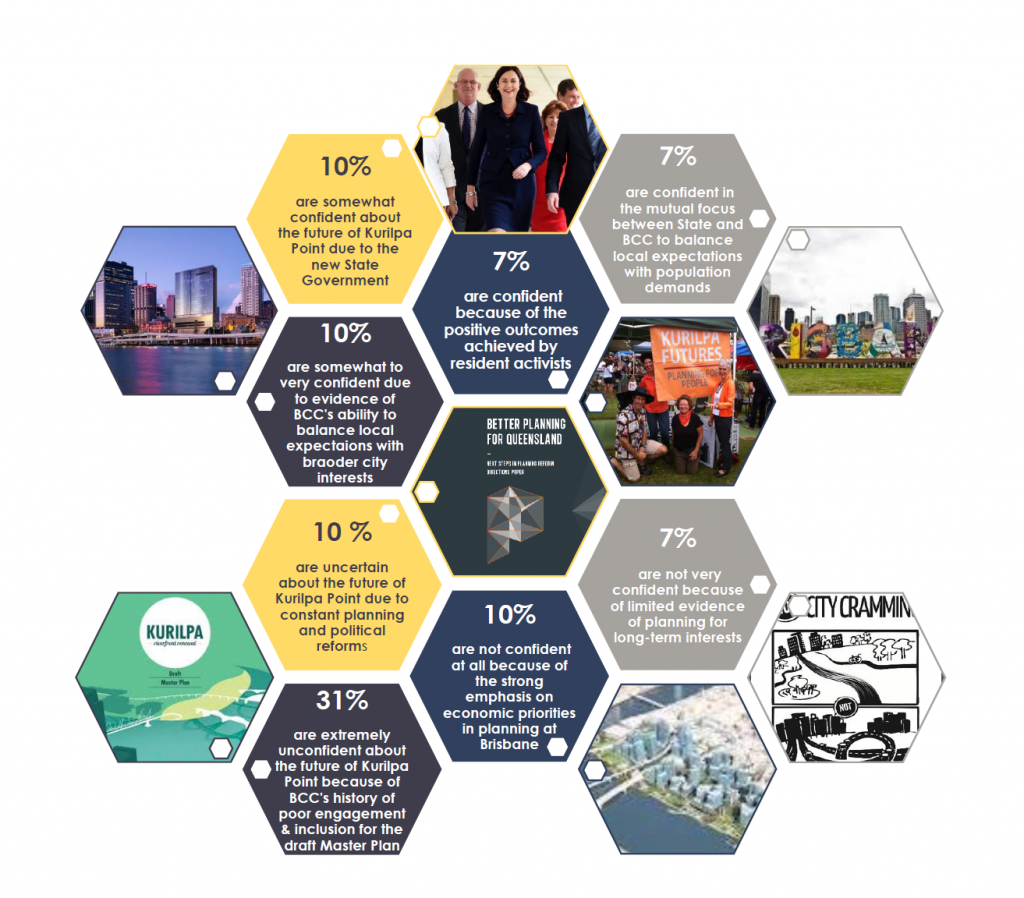 During her engagement with community stakeholders Ms Kwok found:
"A sense of distrust in the capacity of Brisbane's planning system to balance social wellbeing, environmental protection and economic development.
A belief that the poor separation of powers between BCC's administration and the electorate and political representatives is constraining professional expertise to deliver acceptable outcomes at Kurilpa Point.
Growing public confidence that the future planning of Kurilpa Point will be influenced by community views."
Ms Kwok said that decision-making transparency is fundamental in planning.  Without this transparency, the community thinks that planning preferences developer interests over public interests, she said.
Ms Kwok also found that trust and confidence in Brisbane's planning system, "lowers when the use of administrative discretion is not understood or clarified, or is unfavourable to stakeholder interests".
Ms Kwok found that because of Jackie Trad's intervention there is a growing confidence by community stakeholders that future planning for Kurilpa Point "will deliver integrated and balanced outcomes between the key planning interests – primarily the community, the development industry and the planning industry".
Industry stakeholders she said, have faith in the planning system and collaborative working relationship between Council and stakeholders.
In her conclusions, Ms Kwok's recommends that Brisbane City Council:
addresses the separation of powers within the organisation
engages in broad community-based conversations on the merits and challenges of performance-based planning
invests in community partnerships for planning
increases public access to two-way information (face-to-face interactions)
reviews its Community Engagement Policy.
Ms Kwok completed her Honours thesis in 2015 in Regional and Town Planning . She now works within the private planning sector and aspires to be "an exemplar for good engagement practices and negotiation in the planning industry".
If people would like a copy of Ms Kwok's thesis they should contact Ms Kwok at <info@melaniekwok.com.au >