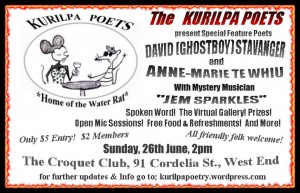 The last Sunday in July is approaching rapidly and what a great line-up the Kurilpa Poets are putting on this month.
First up, we are honoured to present as special Feature Poets for July none other than the esteemed Co-Directors of the 2015 Queensland Poetry Festival,
Mr David (Ghostboy) Stavanger and his partner in all crimes cultural, the charming Ms Anne-Marie Te Whiu.
As Ghostboy, David is of course, a well known Presence in the Brisbane Poetry Community, while Annie has been a quiet achiever, responsible behind the scenes for many local Cultural Events.
Generously taking time off from their many arduous duties as Custodians of Brisbane's premier Poetry Event to appear at our humble venue, together Dave and Annie will no doubt amaze and beguile the crowd with their words, and make this an afternoon to remember.
Mystery Musician of the Month is the ever-smiling Jem Sparkles, who kept us so well entertained at last May's "Mad Maids" Event.
This month she will be performing solo, sans her "Sparkle Boys".
Master of Ceremonies for July is the ever-popular Cam Logan, recent winner of the2015 Kurilpa Cup.
The Virtual Gallery will no doubt be showing something weird and wonderful from Art's Forgotten Vaults, courtesy of our Visual Arts Director Shane Kneipp and as always our 2 Open Mic sessions will be there for you to share your words (or someone else's for that matter) in an informal and supportive atmosphere.
Food and Refreshments are provided Free but we encourage people to bring a plate or a packet or a bottle of something to contribute to the Feast.
Sunday, 26th July, 2pm
The Croquet Club, 91 Cordelia Street, South Brisbane
Free On-site Parking and close to Public Transport.
Only $5 Entry $2 Members
All Friendly Folk welcome.