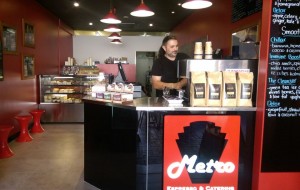 Peter Aristidou's dad ran the original Metro Cafe in Gympie in the 50's, so when Peter was looking for a name for his new venture, it was pretty simple to reach back into his family history.
The choice of location for the new venture was pretty easy, too. Peter has been hanging out in West End all his life, and even met his future Greek wife here in West End.
Peter likes West End, he likes the people, and is very happy to be here. He reckons West End, with its already established coffee culture, is the perfect spot to open his doors.
Peter has been in hospitality since 1990, and has worked in the area of coffee distribution for 12 years. He understands how people are passionate about their coffee.
Metro Espresso and Catering is aimed at those who are very particular about their coffee – no request or special order is too obscure or finicky. Peter will make it just the way the customer wants it.
Peter has a deep understanding of the science of good coffee. A good Barista, he said, needs to be aware of temperature, strength, age of the ground coffee and countless other factors.
On the food side, Metro Espresso aims at casual, convenient food, ready to grab and take back to home or the office. There's a big focus on home made food: pastries, wraps, deli sandwiches, snacks and house made pies, etc.
His range of Gelato is made in Brisbane by Delizia Gelato, a fourth generation family business based in Geebung.If you're looking try a coffee made by a real professional, Metro Espresso is well worth a visit.