On Saturday December 6th, members of the community dropped into Kurilpa Hall in Boundary Street West End to share their thoughts on the Kurilpa Master Plan.
The event was hosted by the Kuripla Futures Campaign Group (KFCG).
The KFCG is a network of Brisbane residents, community organisations and political organisations campaigning for community sensitive alternatives to the currently proposed Brisbane City Council's Kurilpa Master Plan. The group considers that the current draft plan "..proposes sizable population growth but doesn't add the necessary ingredients to ensure the basic needs of new, and existing residents, are met."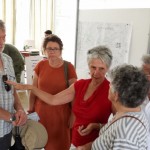 The KFCG has set out its alternative vision on its website:
"Future Kurilpa would stretch along the banks of the Brisbane River between the cultural hubs of South Brisbane and West End, providing attractive space for entertainment, tourism and inner city living".
KFCG members, Tim Quinn, Pam Bourke, Cate Paull, Helen Abrahams, Phil Heywood, Phil Vanderezeil and George Kassos set up information stands throughout the hall that were themed around: Heritage, History & Character, Parks and Green Space, Biodiveristy, Density and Height, and People, Community and Facilities.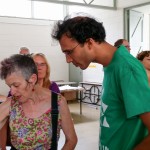 State Member for South Brisbane, Jackie Trad, and Greens Candidate, Jonathan Sri, were both on hand to listen to concerns and answer questions.
Over 100 participants attended over the course of the three hour event. They were able to visit each information stand, ask questions, and vote on the issues of most concern to them.
Density, building height and green space emerged as the issues of greatest concern.
A sample of participant comments are below. The full set of responses can be found on the KFCG's web site:
"As an early childhood educator, I recognise the high importance of nature in the lives of young children. The more green space which disappears, the more butterflies, birds, wild plants and animals are lost. Keep diversity in Brisbane."
"As a teacher my concern is about the loss of educational facilities. I work in a state education facility which is overcrowded and this is not good for our students. This will happen to West End. One primary school and one high school will not be enough! Poor, poor planning."
"Brisbane is the most bio diverse city in Australia. So why doesn't this plan mention environmental protection, biodiversity or climate change? A wasted opportunity."
"A ridiculous lack of planning integrity and foresight. What legacy does this leave? What quality of life will this provide? Go back to good practical planning principles and lessons learned internationally when planning for healthy liveable cities."
Over the next few weeks the KFCG plans to approach Brisbane City Council and the Lord Mayor to seek responses to community questions and concerns.
To keep up to date on KFCG activities see their website  kurilpafutures.org and follow them on Facebook or Twitter at @KurilpaFutures