Eric Scott, Brisbane entertainment and travel writer, playwright and novelist, looks at what's coming up on the local entertainment scene.
Australian Festival of Chamber Music
The internationally acclaimed Australian Festival of Chamber Music in Townsville has unveiled a world class program of concerts, collaborations, conversations and masterclasses to be performed by the world's best chamber musicians in churches, theatres, gardens and on Orpheus Island for nine days from 28 July to 5 August
This will be the final festival for Artistic Director Piers Lane who over his 11 years of artistic leadership has welcomed an extraordinary number of artists and guests to the North Queensland capital for this very special event.
A line-up of 42 artists will perform at the event, including 13 from overseas, and three leading Australian ensembles in the Goldner String Quartet, Orava Quartet (Strings) and the Nexus Quartet (Saxophone).
Four international artists will make their Australian debut at the 27th AFCM including Poul Høxbro (Flutes and Percussion) from Denmark, Italy's Francesca Dego (Violin), Henk Neven (Baritone) from the Netherlands, and from the United Kingdom, Martin Owen (Horn).
AFCM Artistic Director designate, the highly distinguished UK pianist Kathryn Stott, joins the festival this year as a performer.
Piers Lane said the 2017 program covered a wider range of music than ever before. "Poul Høxbro will be playing medieval music on the one hand, and on the other, we shall be mounting the world premiere of a new work for string quartet by our Composer-in-Residence for 2017, Sydney-based composer Matthew Hindson, to be played by the Goldners, our Quartet-in-Residence," he said. "We shall glory in Bach one day and be uplifted by Jake Heggie's Pieces 9/11 the next. We shall again take the opportunity for a boat trip to Orpheus Island to view whales and stunning mid-Winter sunsets, and support and celebrate the young artists of the Winterschool on other days."
The program includes six morning Concert Conversations, four Sunset Series events, two Church Concerts, the official Evening Series Program, a Concert Crawl and the Orpheus Island Experience. New to the program is the Currajong House Garden Party on Saturday 29 July, an outdoor concert with lawn games and traditional afternoon tea.
The opening night concert on July 28 is titled Beginnings and marks the Festival debut of five world-leading artists and opens with some of the earliest music that can be heard live today, as well as the world premiere by Matthew Hindson mentioned earlier.
The Families' Concert will be Brundibár, a 40 minute Children's Opera about hope and justice first performed in the Theresienstadt Concentration Camp, to be directed by Madonna Davies.
The Festival's Winterschool Program has a new home for all masterclasses and concerts in the stunning St James' Cathedral, a wonderfully inspiring venue for young emerging musicians. The free concert in Queens Gardens is also back on the program.
Cat Stevens for Australia in November
British singer-songwriter and Rock and Roll Hall of Fame inductee, Yusuf/Cat Stevens will tour Australia in November and December. A Cat's Attic "Peace Train Tour" commemorates the 50th Anniversary of his first major hit single and debut album Matthew & Son released in 1967.
With this tour announcement, Yusuf/Cat Stevens is giving his current RedRoom fan club members the first chance at purchasing tickets. The fan club pre-sale will run from 12noon Wednesday 29 March (local time) to 8am Thursday 30 March (local time). To learn more about the RedRoom visit www.catstevens.com.
Tickets for the general public go on sale at 10 am local time on Wednesday 5 April.
Cat achieved early success in the mid 60s with Matthew and Son, Here Comes My Baby and The First Cut Is The Deepest. In 1968 the heavy work load of non-stop appearances and touring, the excesses of a pop-star lifestyle took its toll and Cat contracted TB. He was hospitalised for several months and began a process of inner reflection and meditation. During this time Stevens began to question aspects of his life and spirituality and underwent a profound musical transformation.
From 1970 to 1978 he recorded and released the albums that would establish him as a leading singer-songwriter of his generation. His album, Tea for the Tillerman, from 1970, went multi-platinum in the U.S. and Australia with such songs as Wild World, Hard Headed Woman, Where Do the Children Play? and Father & Son. It was Teaser and the Firecat in 1971 that made him a megastar, with songs like Morning Has Broken, Peace Train and Moonshadow – spending fifteen weeks at the top of the Australian charts, becoming the biggest-selling album of the country in 1972.
In 1975 Cat experienced another life-changing event after nearly drowning in the Pacific Ocean. Following this he dedicated himself to the Divine path, leaving music he concentrated on the education and humanitarian relief. The tragic events of 9/11 motivated Yusuf to, once again, take to the global stage.
He spoke out in the media against the atrocities, against fanaticism and war, and called for peace and unity. In 2006 Yusuf returned to mainstream music with the album An Other Cup, which was followed in 2009 by Roadsinger.
In 2014 he released his fourteenth studio album Tell 'Em I'm Gone and was inducted into the Rock and Roll Hall of Fame. He is currently working on a children's animation series and writing his autobiography, which is expected to surface next year.
Yusuf/Cat Stevens 50TH anniversary tour
BRISBANE: Saturday 9 December – Brisbane Entertainment Centre – www.ticketek.com.au
Redroom fan club presale: 12 noon Wednesday 29 March to 8am Thursday 30 March (local time)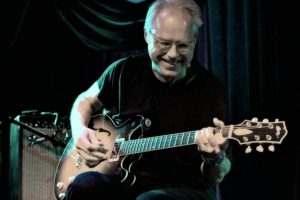 Guitarist Bill Frisell for Brisbane concert
Hailed as one of the most innovative and influential guitarists of the past quarter of a century, Bill Frisell will make his Queensland debut at the Concert Hall, Queensland Performing Arts Centre (QPAC) on Friday 9 June 2017 as part of Queensland Cabaret Festival.
Guitarist and composer Bill Frisell is a Grammy award-winner whose career spans more than 35 years and 250 recordings. Recognised as one of America's most productive performing artists, this musician is true to jazz, but that hasn't prevented him from trying his hand at avant-garde, bop, folk, country, bluegrass, rock, blues, American popular music and even classical music.
Frisell is a 13-time Best Guitarist winner in America's Down Beat Magazine Critics Poll (including 2016), and five-time Guitarist of the Year at the Jazz Journalists' Association Jazz Awards.
The When You Wish Upon a Star concert includes music from Bill's latest album release of the same title that was nominated for a Grammy Award for Best Contemporary Instrumental Album in 2016. It features unique interpretations of classic American cinema music from Hitchcock's Psycho through to Ennio Morricone's score to Once Upon A Time In The West, via Nino Rota's music for The Godfather as well as other jazz classics for which Frisell is well-known.
Frisell is joined on stage by vocalist Petra Haden, bass player Thomas Morgan, and drummer Rudy Royston.
Frisell has collaborated with artists and ensembles as diverse as Sting, Paul Simon, Rickie Lee Jones, Elvis Costello, Bono, T-Bone Burnett, Marianne Faithful, Paul Motian, Ron Carter, Eberhard Weber, John Zorn, Dave Holland, Lucinda Williams, Pat Metheny, John Scofield, Brian Eno, The Frankfurt Ballet, BCC Symphony Orchestra and the Los Angeles Philharmonic.
He has also written film scores for the movies of Buster Keaton and collaborated with filmmakers Wim Wenders (Million Dollar Hotel), Gus Van Zant (Finding Forester), on an animated feature by cartoonist Gary Larson (Tales from the Far Side II) and with playwright Sam Shepard (A Particle of Dread – Oedipus Variations). Frisell himself is the subject of a documentary, Bill Frisell: A Portrait by Australian singer and film maker, Emma Franz which premiered at the SXSW* Film Festival in Austin, Texas on 13 March 2017. Bookings: qpac.com.au or 136 246​
Two shows with a difference at Brisbane's Metro Arts
Applespiel
Applespiel is a Sydney-based collective of artists who collaborate as performers, musicians, technicians and devisers. Active since graduating from the University of Wollongong's creative Arts program in 2009, Applespiel evolved out of a shared interest in contemporary performance and a collaborative creative process.
Applespiel's creative process focuses on inhabiting a form – music documentary, telethon, commercial breakfast radio – earnestly and faithfully to expose and critique its construction.
Applespiel has developed and performed Applespiel Make A Band And Take On The Recording Industry (Performance Space, Malthouse Theatre), 24-hour performance protest In Pursuit of Excellence (PACT), Sexy New Urban Design Team (Sydney Festival, Tiny Stadiums Festival, You Are Here Festival, Festival of Unpopular Culture, Verge Festival), At the Request of Carl Sagan (Next Wave), Snail Piece (Festival of Dangerous Ideas, Underbelly Arts Festival, Peats Ridge), Executive Stress/ Corporate Retreat (Edinburgh Fringe Festival, Tiny Stadiums Festival, Adelaide Fringe), Applespiel's Morning Breakfast Commercial Radio Show (Crack Theatre Festival, You Are Here Festival) and Awful Literature is Still Literature, I Guess (Underbelly Arts Festival).
Applespiel members are Simon Binns, Nicole Kennedy, Emma McManus, Mark Rogers, Troy Reid, Joseph Parro, Nathan Harrison and Rachel Roberts.
Opening: Friday 21 April. Season: 20 – 29 April.
England by Tim Crouch
The internationally acclaimed contemporary theatre work England by Tim Crouch, co-presented by Nathan Booth and Matt Seery will be exhibited at Metro Arts in April.
Weaving together the worlds of visual arts and theatre, England questions how we live – and die – in an endlessly overlapping globalised world.
The site-specific performance begins as a guided tour through an exhibition, before transporting audiences across the world into the life of an unknown woman who is moving rapidly towards death plagued by sickness and the search for health at any cost. England leaps through time and space: from Brisbane, to London, hospital beds, hotel rooms and beyond.
It has been presented in galleries across the world from Oslo to Madrid, Dublin to Singapore and Vancouver to Melbourne. The 2017 season will be the Queensland premiere at Brisbane's Metro Arts. Since the season's announcement, director Matt Seery has discussed the importance of England's upcoming season.
"We are extremely excited to share this production with Brisbane audiences. Not only is it the first Australian production of the work in almost a decade but the very first time that permissions have been granted to an independent production team in Australia. The opportunity to direct one of Tim Crouch's most unique and captivating works is something of a dream come true."
"England takes a wildly playful approach to modern theatre; formally innovative, intriguing, chilling and, best of all, a provocation of many difficult conversations we need to be having about the world today. It mischievously dismantles and re-arranges relationships between character, actor and audience, relentlessly questioning the ways in which we value art, culture and human life."
England by Tim Crouch will be brought to life by nationally celebrated and Gold Matilda Award winning performers Barbara Lowing (Motherland, The Seagull, Australia Day) and Steven Tandy (Bastard Territory, Happy Days, Romeo & Juliet), with a production team of young creatives.
Season: 19 – 29 April 2017 in the Gallery at Metro Arts
Booking: www.metroarts.com.au​
The State of Origin Musical extended by a week
An additional week of shows has been announced for the world premiere season of Home Ground: The State of Origin Musical that will open on June 23 (bang in the middle of the State of Origin Series of course), starring a cast of 20 telling the story of Australia's greatest sporting rivalry.
Home Ground tells the story of that famous rugby league game in 1980 captained by Artie Beetson and starring a young Wally Lewis where Queensland finally beat the Blues after 21 years of defeat (because the Blues stacked their side with Queenslanders!). It's a spine-tingling story of coming of age, of beating the odds and of forging a spirit and a contest so passionate that it takes over the country every year – now called, State of Origin!
Conceived by literary legend Mr Hugh Lunn, with international Phantom of the Opera star Peter Cousens leading a cast of talented Queensland stage stars, Home Ground also features the new Queensland anthem: We Bleed Maroon!
Playing The King Wally Lewis, is Queensland actor Chris White, playing Kerry Boustead is Matthew Dear, Jackson McGovern will play Brad Backer and Lachlan Hewson takes up the Chris Close jersey. Stephanie Long, Penny Farrow and Hannah Grondin have all been cast. Key roles to be announced in the coming weeks include Ron McAuliffe, Sir Joh, Doc, Mal Meninga and Jock Ryan.
It's the story of that game played in 1980 which changed history, and created the State of Origin Series as we know it. It's the game that Queensland won (and continues to win!).
The ideas of self-respect, pride, tenacity, and victory against the odds are well-known ingredients in the story of Queensland's four decade dominance of the annual rugby league Series against New South Wales. But it wasn't always so… What has been forgotten is that every year, for 21 long years, Queensland lost the Interstate Series – because the Blues were stacked with Queensland's best players! Until that game in 1980, played by that team…. Home Ground is the story of the people, the games and the politics that made it all happen.
Tickets on sale now http://brisbanepowerhouse.org/ or call 07 3358 8600
Tickets start from $50
More Info www.homegroundthestateoforiginmusical.com.au
Playing at ERPAC (Edmund Rice Performing Arts Centre) adjacent to Southbank
RAW dance back to Brisbane (Main picture)
Fresh from their sell out season in New York, Brisbane based dance company RAW bring Untapped, to the Cremorne Theatre, Queensland Performing Arts Centre (QPAC) from 19 to 29 April.
Heralded by the New York Times as 'Untrammelled Energy', Untapped is a feast of dance and music with a mix of tap, street style and hip hop.
Winner of the 2016 Best Show at the Adelaide Fringe Festival, RAW's Untapped has toured throughout Australia, Japan, Singapore, Europe and the United States. With music ranging from funk, hip hop, Flamenco, African and Jazz, the dancers are accompanied by a live band and beatboxers.
Co-Choreographed by Jack Chambers (Artistic Director RAW, winner season one So You Think You Can Dance, Cosmo Brown in Singin in the Rain) and Andrew Fee (Founder and Producer of RAW); Untapped stars Katie Struik (Jesse J, Ricky Martin & Timomatic), Kieran Heilbronn (Burn the Floor), Brianna Taylor, Martin Kay and Owain Kennair. The dancers will be joined on stage by musicians Genesis (Beatboxer) and Brendan Ramnath (Musical Director and Drums).
Untapped is on sale now via qpac.com.au or call 136 246.​
https://www.absolutetheatre.com.au/showbiz-news