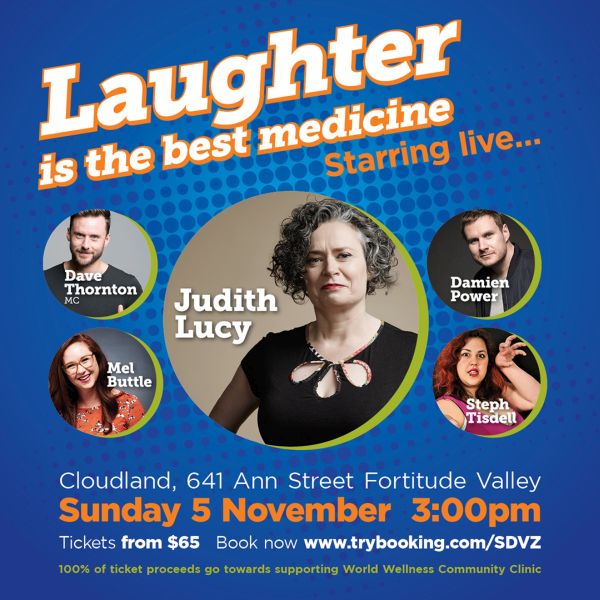 An afternoon of comedy aims to raise $100,000 to support Woolloongabba based clinic World Wellness Group.
Brisbane based social enterprise and multicultural health and wellbeing clinic, World Wellness Group (WWG), will welcome renowned Australian comedian Judith Lucy, known primarily for her stand-up comedy, to headline its upcoming fundraiser, Laughter is the Best Medicine. The fundraiser will be MC'd by the hilarious Dave Thornton and supported by well-known local comedians Mel Buttle, Damien Power and Stephanie Tisdell.
The fundraiser, which will be held on 5th November at 3pm at Cloudland, is being held to help raise funds to meet the growing demands for their services. 100% of ticket proceeds from the afternoon will help go towards meeting this need.
WWG provides primary health care, mental health and wellbeing services to thousands of Brisbane's most vulnerable members of society, including refugees, asylum seekers and at-risk men, women and children. Last year WWG provided over $120,000 in pro-bono medical services to asylum seekers in the local community without access to Medicare.
Commenting on the event and WWG, Judith Lucy said, "I was introduced to World Wellness Group after filming my television series, Spiritual Journey, in 2016 through St. Mary's in Exile. These guys asked me to do a benefit for them and, really, how could I say no without looking like a complete schmuck? They're a great organisation and it's a wonderful cause so I'm very happy to be involved".
Sharing their personal experience with WWG, a local community member said, "World Wellness Group supported my healthcare needs when I had nowhere else to turn and no income to pay for medicines. I hope that through this event they are able to raise the funds needed, so that they can extend their support to additional members of the local community who may be in a similar situation to my own."
Rita Prasad-Ildes, Director at World Wellness Group said, "Over the past year, we've witnessed exceptional growth and demand for our services within the local community. Many of our clients come from all different walks of life, however what binds them is that they all have difficulty accessing health care, whether it be because of language barriers or circumstances of their visas."
She continued, "At WWG, we believe that everyone has the right to accessible and appropriate healthcare regardless of who they are. Our aim is to continue to deliver health care services that will help those vulnerable members of our local society who may otherwise be at risk and fall through the gaps in the health system. The support we've received so far has been amazing and we want to thank everyone, especially our comedians Judith, Dave, Mel, Damien and Stephanie, as this event would not be possible without their generosity."
For individuals based in Brisbane who want to get behind the cause, tickets are available for purchase at TryBooking.
Event: WWG's 'Laughter is the Best Medicine' fundraiser
When: 5 November, 2017, from 3:00pm
Location: Cloudland, Fortitude Valley, Brisbane
Tickets: $65Acts: Judith Lucy, Mel Buttle, Damien Power, Stephanie Tisdell and the hilarious Dave Thornton as MC.
For more information on The World Wellness Group, please visit worldwellnessgroup.org.au or their Facebook page at www.facebook.com/WorldWellnessGroup
About World Wellness Group
Founded in 2011, World Wellness Group Ltd (WWG) is a social enterprise health and wellbeing clinic that promotes health, wellness, equity, cultural diversity and traditional approaches to health and wellbeing. We believe that everyone has a right to accessible and appropriate health care regardless of who they are. World Wellness Group provides healthcare to thousands of socially disadvantaged people in Brisbane who otherwise would not have access to healthcare services and are the primary healthcare clinic for Brisbane's asylum seekers.