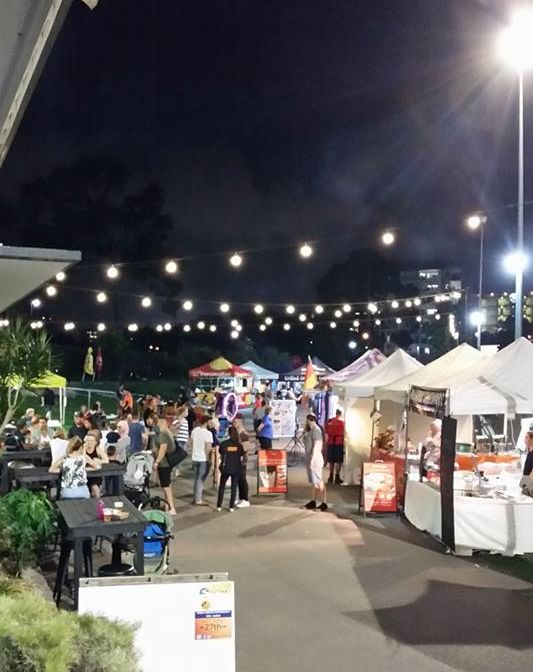 Davies Park, home of Souths Leagues Club, has always been a meeting point and host to a range of events for the people of Brisbane since the 1920's. Today, with the Venue revamp, the area is the perfect location for so many more community events. As part of a major renovation and plan to become a destination venue, The Souths Leagues Club, home of the Souths Logan Magpies, has implemented a new event that will run fortnightly with the anticipation of running weekly in the new year: THE SUNSET SOCIAL, running every 2nd and 4th Friday.
THE SUNSET SOCIAL will have live music, the best of Brisbane's Food Trucks and street food, Great cocktails, Wines and Beers, and entertainment for the whole family. AND THE BEST PART? NO ENTRY FEE.
The Goal is to create an atmosphere where the kids of WEST END community can come down and exert some energy on our beautiful grounds, with planned activities and free play areas, all the while staying safe while mum and dad can have a delicious dinner with a beverage, listening to some amazing young talent.
"We want The Sunset Social to be THE PLACE TO BE on a Friday Night. We want to encouraging local businesses, charities, and schools to reach out and be a part of this event, so we can help grow west end and provide a vibrant place for us all to meet and relax," says Jim McClelland , CEO Souths Leagues Club
The First Event was on the 13th and as a soft opening was a HUGE SUCCESS. The next event Is on Friday the 27th. Bring your picnic rugs, your footy, your friends and your family. We can't wait for even more of the WEST END and surrounding community to join us and show that WEST END and Davies park is the place to be!
For more information on becoming a vendor, or how you can be involved, please see our website www.thesunsetsocial.com.au or call 07 3844 7344