On Tuesday the 17th October from 9.30 am to 1pm at the State Library of Queensland there will be a great opportunity to hear from Dr Richard Denniss – the Chief Economist at The Australian Institute – and other great speakers and panellists about poverty and inequality.
"Who is The Australia Institute? The Australia Institute's Board represents a range of views and priorities, and its staff includes policy experts from fields as diverse as economics, public health and law. What unites us is a belief that, through a combination of research and creativity, we can develop the new ideas and practical policy solutions that a progressive Australia needs.
Dr Richard Denniss is the Australia Institute's chief economist. He is an economist with a particular interest in the role of regulation. Prior to taking up his current position he was an Associate Professor at the Crawford School of Economics and Government at the Australian National University where he continues to hold an adjunct appointment.
Richard has also worked as Strategy Adviser to the Leader of the Australian Greens, Senator Bob Brown, Chief of Staff to the Leader of the Australian Democrats, Senator Natasha Stott Despoja, and lectured in economics at the University of Newcastle. Richard has published extensively in academic journals, is a frequent contributor to national newspapers and was the co-author of the bestselling Affluenza (with Dr Clive Hamilton) and is the co-author of An Introduction to Australian Public Policy: Theory and Practice (with Dr Sarah Maddison).
His most recent book is Econobabble: How to Decode Political Spin and Economic Nonsense.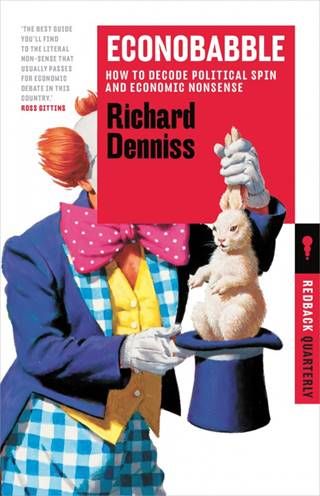 "Richard Denniss is the freshest economic thinker I know, brimming with ideas, challenging old views and finding new opportunities for progress. In this path-breaking book he shows how we can stop abusing the natural environment without great economic cost.' Ross Gittins
Event details:
Ending Poverty and Inequality in Queensland: A Public Forum 9.30am – 1pm Tuesday 17 October The Edge Auditorium Queensland State Library, South Bank Brisbane
MC: Kay McGrath
Guest Speakers:
Dr Richard Dennis Chief Economist, The Australia Institute
Dr Cassandra Goldie CEO, Australian Council of Social Services
The Hon Jackie Trad MP Deputy Premier, Minister for Transport and Minister for Infrastructure and Planning and Member for South Brisbane
Karyn Walsh CEO, Micah Projects
Tickets $20* Includes morning tea Bookings via Eventbrite
Complimentary tickets are available to those experiencing financial hardship. Please contact Micah Projects on (07) 3029 7000