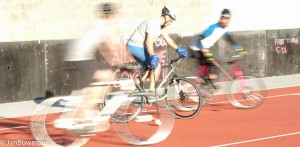 Not long after the The Westender published its first Bike Polo story in August, two Brisbane teams, The Sentinels (players, Ollie Wykeham, Tom Hawthorn, Max Newstead) and the Yeti Ghetto Slang (Nicolas Doyle, John Giles, and Rainer Chee Seng), joined teams from Sydney and Perth, and a combined team from Hobart, Melbourne and Germany, at the World Hardcourt Bike Polo Championships in Montpelier, France.
None of the Australian teams reached the knockout stage of the competition, but The Sentinels got pretty close apparently.
15 countries fielded teams in France and there were 64 teams in all, and with the addition of wildcard entries, there were up to 300 competitors. Brisbane player Jordan Heppell who attended and played with USA team, The Royals, told The Westender that the experience was overwhelming.
"It was huge, I've never seen so many bikes in one place",  he said.
The overall winner was the French-British combination, Call Me Daddy. Jordan reckons it has been the best international team of the last few years.
The Australasian Hardcourt Bike Polo Association plans to submit a bid to host next year's World Hardcourt Bike Polo Championships in Timaru, New Zealand. Timaru hosted the Australasian Championships in 2013, and has proven capacity. If the bid succeeds, the reduced travel costs will be a great boon to Australian teams.
Teams travelling to France were self-funded and some missed out due to the expense. While there is some limited local sponsorship for bike polo it usually doesn't stretch further than some equipment provision. As player numbers grow it is hoped that sponsorships will become more attractive for Australian bike businesses.
Coming up on the local bike polo scene are, the spring tournament in Melbourne in November, and the very popular Hobart Ho-Town Hoedown to be held on the weekend before Australia day on January 17 and 18. The event page can be found on Facebook here.
There are no immediate plans for a tournament in Brisbane.
Brisbane players held an exhibition of bike polo at the recent Kuripla Derby in the West End and they are keen to attract new players to the sport. If you are interested, go to the Brisbane Hardcourt Bike Polo Facebook page or just turn up at Musgrave Park one Sunday afternoon. https://www.facebook.com/groups/205864899452976/?fref=ts
Corrections:
I have recieved a few corrections to this story.
Two teams representing Australasia made it to the knockout round in the Montpelier: The Fist [Andrew & Dave (Melb) and Kouyo (Seattle)] and The Alchemists [Ben (Sydney) and Ned & Scotty (Perth)]
And while Ollie Wykeham did manage to break his nose, it was after the event, not during it.
Thanks to Dave and others who have got back to me.