In August, a crowd of about 300 supporters at a West End rally called on the Brisbane City Council and the Lord Mayor to engage with local communities on development proposals through open collaboration.
According to participants and organisers, continuing frustrations with Council planning processes across Brisbane has led to further action.
Under the banner of "Know More", residents' associations and community groups are combining as Brisbane Residents United (BRU) in a public rally to be held on Sunday, November 15.
BRU Founding President, Elizabeth Handley, said the rally will be demanding a planning system "for today and the future . . . one that is fair and equitable, and puts people first".
Ms Handley said people have been telling her that poor development decisions by Council are devaluing their homes.
"I have never seen so many people incensed and bewildered by planning processes: it often feels like a maze to them", Ms Handley told The Westender.
"We need to remind Council that they are there to ensure the amenity of the residents of Brisbane, not the profits of developers." Ms Handley said.
BRU represents approximately 40 groups from across Brisbane and South East Queensland, and the number is growing Ms Handley said. Member groups are both small and large, new and well established, but all have similar stories to tell.
Groups from Springhill, the Gap, Sunnybank, Logan, Newmarket, Calamvale, Indooroopilly, Toowong and Milton form part the collective, Ms Handley said, adding, "If Council thinks the BRU is just the inner city usual suspects, then they have got it wrong."
President of the West End Community Association (WECA), Dr Erin said the BRU formed about four years ago but has been meeting more intensely over past the year with the aim to contribute to planning reform by the State Government and in the lead up to Council elections in March 2016.
Dr Evans told The Westender that,
"It is important we have a planning system that is equitable, fair and accessible to all".
The theme for the rally on November 15 will be, Know More.
"We encourage residents to know more about the planning of their city and invite them to get more involved; we demand Governments know more about what people want and need; and, we are telling Governments no more ignoring our voices – these are our places and spaces", Dr Evans said.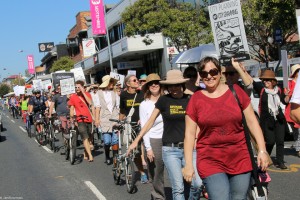 Neighbouring BRU member, the Woolloongabba Community Action Group (WCAG), formed two years ago over concerns that proposed developments on Logan Road were not in keeping with existing Neighbourhood and City Plans. Andrew Gilbert of the WCAG told The Westender, "People are getting tired of doing submissions [to Council] that are getting rejected."
Mr Gilbert said the community on its own cannot afford to fight against each new development. He wants the rally to send a message to Council that community groups are not happy with the current planning processes.
Others, like Darren Litzow of Kangaroo Point, have been fighting their own battles. Before he joined BRU, Mr Litzow was in a lone struggle to save his heritage cottage from being overwhelmed by a six-story development on his boundary. The proposed development fell well outside the guidelines of the City Plan 2014 and its heritage overlays.
Mr Litzow told The Westender that he was helped by the expertise available to him within the BRU, not just from a legal perspective, but also as a boost to morale. He said he doesn't attribute blame to any levels of Government or Council but thinks that the community needs to work together to find a better path to planning our urban spaces.
Locally, the Kurilpa Futures Campaign Group (KFCG) and WECA have been campaigning for better development at two sites: the Pradella development on the former School of Distance Education, and the Absoe (West Village) development on what was the Peters Ice Cream factory site. Between them, these developments will bring a significantly increased population to the peninsula.
Kurilpa Futures spokesperson, Phil Heywood says that, "BRU wants to broadcast how people power can shape political and planning agendas.  This is especially important as we approach the Council elections in March 2016", he said.
"People Power works", Mr Heywood said.
"Our communities have made important victories to celebrate: the State Government has scrapped the unpopular Kurilpa Master Plan with its proposed population increase of 11,000 people.  In The Gap, the plan for over a thousand new dwellings has been drastically reduced. In St Lucia, the Council is reconsidering the proposal for The University of Queensland to sidestep normal planning processes for developing surrounding areas," Mr Heywood said.
Where and When?
Brisbane Residents United advises that the rally will commence at Reddacliff Place (266 George St between the BCC Library and the Casino) at 10.00am on Sunday 15th of November followed by speeches and entertainment at the City Botanic Gardens (George St end)
It is a family friendly event.
For further details see the BRU Facebook site and at www.brisbaneresidentsunited.org