The Australian Institute of Landscape Architects recently awarded renowned local landscape architect, John Mongard and colleagues, the 2016 Excellence in Community Design Award for their work on The Green Space Strategy.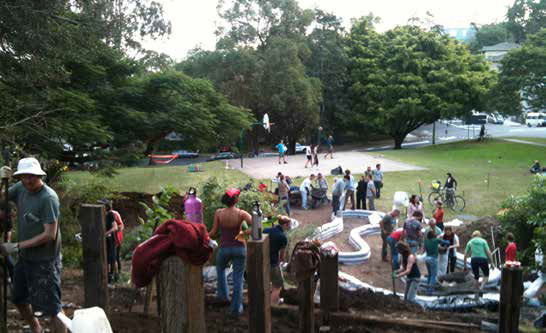 The judges acclaimed their work as an outstanding example of the vital contribution Landscape Architects can make to our civil society by helping communities articulate their visions.
Now they are bringing their ideas back to the community. Through their fully illustrated talk, they will demonstrate how overlooked places might be reimagined and reclaimed as green spaces and people friendly parks that are suitable for all ages and interests.
These are realistic ideas John Mongard says, "Already local individuals and groups throughout Brisbane are undertaking widespread initiatives to occupy and green unused spaces.  In West End alone, the Hampstead Road Community Orchard, Jane Street Community Garden and Boundary Street Kiosk, run by local groups, bring life and amenity to an otherwise crowded suburb. Further afield the Northey Street Urban Farm is famous for its community links and weekly markets, and a dozen Creek Catchment Coordinating Committees do much to keep Brisbane as green and livable as it still is."
Workshop participants are invited join with qualified design professionals to identify opportunities and start on schemes for their own areas and favourite places.
"Throughout the city, communities are taking unused and derelict open spaces into their own hands to create places of beauty, rest and activity," John Mongard said.
If you want to hear more come to this free presentation and interactive workshop.
WHEN
Sunday 17th of July – 2.00 PM to 4.30 pm –  Registration at 1.30 pm.
WHERE
Kurilpa Hall,  Boundary Street, West End
For more details see the Kurilpa Futures website