Yesterday was my grandson's 14th birthday. Unlike so many grandparents living through the Coronavirus pandemic, my husband Charles and I were able to celebrate it with him, as he lives downstairs with his mother Bec, our daughter, while we live upstairs, along with Simon, his father.
I began writing of our experiences of 3 generations living together before the virus hit, then last night, as we all sang Happy Birthday, five of us on the upstairs deck, two at the gate below and more friends and family on Zoom, I was also celebrating how lucky we are that we five have each other through this challenging time.
Prior to our moving to West End, Charles, Simon and I lived next door to Bec in Highgate Hill for six years, treading a well worn path through a gate in the side fence. We had come to Brisbane after living for 30 years on an intentional community in a beautiful secluded valley of north-east Victoria. The decision to leave there was not arrived at easily or without pain, as were both deeply involved in our local community and would be leaving dear friends. But, Charles had suffered some serious ill health issues that acted as a warning sign to slow down, and which sealed our move north to a warmer climate. Brisbane was unquestionably the choice.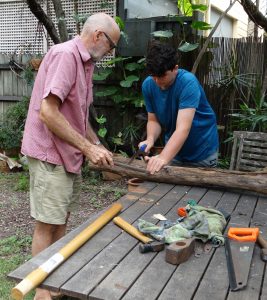 In Highgate Hill we shared our daily lives, including gardening, cooking, sharing meals, reading stories, tending to house repairs, child minding, dress-ups, concerts, landscaping and birthday parties. Being part of the day to day life of your adult children and their family is a great privilege which, for us, has enriched our lives enormously. For me this has helped fill the gap made by moving away from people, place and community that sustained me, the most challenging aspect of the move. The distancing of long-lasting and deeply meaningful friendships, particularly my women friends, was very painful.
Living so closely to Bec gave us the opportunity to develop relationships with her wonderful friends who welcomed us over cups of tea or coffee, shared meals and celebrations. It was and is stimulating and keeps us in touch with the thinking of younger people. It has also meant me spending a lot more time on the phone and Facebook to my friends down south. I never had any desire to join any social website until we came to Brisbane, but now I keep up to date with people far away. And, of course, up here there are my 3 sisters and my brother who now all live within ninety minutes of us.
Moving in together.
When we decided to move in together we were united in the desire to stay in West End where we feel we belong. It is a place with a history of community participation and cooperation; it is close to the city and arts precinct; it has parks that provide for recreation, walking and socializing and it has Avid Reader. And importantly for us older folk, West End is close to hospitals.
Sharing a home calls for sharing spaces, the things in them, and time. Having a dual occupancy set-up was essential, with both private and communal spaces, especially important with a teenager in the house. We all cook, so the kitchen needed careful consideration as often there are at least two people cooking at the same time. And, as important, were adequate bathrooms and toilets. We were lucky enough to find a house within our budget that filled almost all our dreams, and moved in together, no longer side by side, but one on top of another. And we are right near the river, buses and ferries.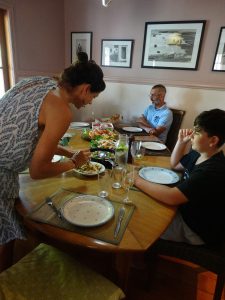 There are many advantages to sharing our lives, not only practical, but emotional, social and financial. Sharing tasks and responsibilities helps lighten the load for all of us as the many small and not-so-small jobs add up and sets a great example for our grandson that, hopefully, he will benefit from. It may be getting someone's washing off the line if it looks like rain; feeding the dog when the owner is away; getting a jar lid undone; having a laptop glitch solved; sports drop-offs and collections; sharing cooking and meals; raiding another pantry for in ingredient you have run out of; maintenance tasks; cleaning the bathroom and toilet, the only task for which we have a roster.
There are, of course, compromises we have had to make. I no longer have my own studio nor a suitable space to paint, nor do we have a spare room for visitors. These are not insurmountable and are clearly first world problems which we usually find a way around. The other challenge is storage space, but this probably means we have too much stuff.
Financially it is advantageous. Sharing rent is slightly cheaper than previously and sharing power bills is definitely an advantage. We also share costs of items we brought with us – washing machine, printer, tools, a car and a lawnmower, as well as any internet costs.
Sharing meals has, until the virus, always been something we have done in an ad hoc way, usually a couple of times a week but now, with more structure needed to survive the new regime, each adult nominates a day from Monday to Thursday. This works spectacularly well, particularly when our grandson steps in as Sous-Chef. I have also been giving him cooking lessons as part of his home-schooling, just us two in the kitchen and music of our choice.
Having been asked to write this article, I was curious to find out if there was anyone else writing about their experiences and found that there seems to be a rising swell of extended families coming together to live under one roof, hardly surprising when you consider the economic stresses imposed on many sectors of the community. House prices have sky rocketed beyond the purse of many. Lives of the next generation are much more complicated. So many people are living below the poverty line. Raising of a child in a multi-generational house benefits everyone – the child by having a wider family input and closer relationships; grandparents by taking an active and more intimate role in the day to day life of their children and grandchildren; parents by spreading the load, especially for working parents; and for all of us, spending meaningful extended time with some of the people we love most in the world.
All images supplied.