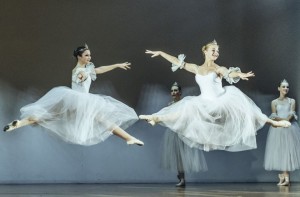 Woolloongabba's Maximo Dance Studio is putting on its annual Ballet Extravaganza in November, showcasing the dancing styles and technical skills of its students.
Maximo was established in 2004 and aims to provide its students with a broad range of knowledge and skills in classical ballet, contemporary and national dance in combined teaching style.
Maximo Dance Studio is named in honour of one of the greatest Russian ballerinas of all time, internationally renowned and recognised, world famous – Ekaterina MAXIMOva.
The dance studio uses world renown & authentic Russian Vaganova method of teaching classical ballet and caters to students aged from 3 years old. Some our students are members of Brisbane City Youth Ballet, Dance School of Excellence and Queensland Ballet programs. The studio aspires to not only enhance students' extracurricular education and have a positive impact on their physical health, but also encourage children's artistic abilities and achieve their best at the art of dance.
The teaching program is largely adapted to the Australian standards of teaching and various dancing education systems in Australia to better cater to local expectations. The studio believes in quality education and aims for results and development of every one of its students.
Maximo Dance Studio is one of a kind in Queensland, the only dance school providing authentic teaching in Russian Vaganova method.
Name of the event: Ballet Extravaganza – Annual Showcase 2015
Date: 15th of November 2015
Start Time: 2 pm
Location: The Claver Theatre, All Hallows' School, 547 Ann St, Brisbane
Tickets: http://www.eventopia.co/event/Ballet-Extravaganza-Maximo-Dance-Studio-Annual-Showcase-15/304613
Photos: Eduardo Vieira Photography