Bernard has lived in West End for over ten years. In his journey around the neighbourhood he imparts nuggets of philosophical wisdom from his own life experience and reflections, all the while showing off a few of his favourite haunts.
About the filmmaker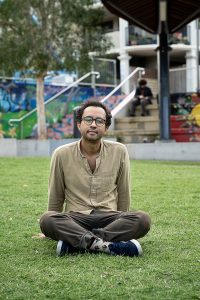 Gilberto Roque's passion for documentary filmmaking brought him all the way from his home in Brazil to study in Brisbane. Faces of West End was his first student film. He's recently completed his final year at Griffith and is working on various projects as a cinematographer in both documentary and fiction. Still based in West End, he brings a wide array of experience into his profession, as well as the resilience, strength, and drive it takes to be part of the industry.
What inspired you to make Faces of West End?
It was my first project here. When I came to Australia in 2019 I was coming to this place (Bunyapa Park) almost every day and Bernard was almost always here too. He seemed to be wherever I was. I was going to the coffee shop – he was in a coffee shop. Then one day I was with a friend in Rumpus Room, and he came and talked in Portuguese with me. And then we became friends. Around the same time, I was on a hunt to do a project (for University). I had to tell a local story. I thought about Bernard.
I tried to talk to him and he said, no, because he doesn't believe in it and what's in it for you. I said, as documentary filmmakers, we do not make money, It's just because I'd like to tell your story, it's interesting how you came all the way here and you live in the community and you know everybody here. He didn't want to be in it, so I was like, okay, cool.
Then two or three months pass, and I was still seeing him around, and then one day, he said to me, "Okay, just go pick up your camera and let's do this!"  And then that's how it was, just pretty much based on when he was here.
I never had any ambition for it, it was really something that I put to use as one assignment, as well as a good memory. Wherever I go, I like to try to do small stories about the community that I have been in. I'm passionate about documentaries, and I think documentaries can do these things that really help, or support a community or individual, even if it means that they can see themselves and laugh or enjoy it, I think that's enough, I think I've accomplished all I wanted. I consider him a friend. It's hard to when you move around so much, I have some close friends and Bernard is one. Talking about the connection to the community, I think he connects really well. He loves this place.
This film was shot end-to-end by yourself and is real run-and-gun as you follow someone and learn about their thoughts on life. How is this process different from other productions you've worked on as a cinematographer?
With Bernard I could be very personal, it was just me and him and, at some point, the camera. Your character or your talent can open up more easily. You have the opportunity to get very close, at the same time you have the challenges that you will have almost no money. Even the basics to get a proper camera, to get some basic lights. But these kinds of documentaries, that's not the most important thing, right? And then the other side, consider gear and those possibilities that allow us to think about important looks and good lights and a good camera, this will give you a special look. That's cool. But that's not for all documentaries.
With higher value productions, there is a certain privilege that you don't have if you work just by yourself. Sure, money can facilitate your life in a lot of things. You can afford the basic things, you can get an Uber, you can organise meals and an appropriate schedule. If you need to travel you have money to travel.  But in the end, it's about the documentary, it's the story, if the story is not good, it doesn't matter.
What were you doing before you came to Australia, and why did you decide to study here?
Before coming to Australia, I was a full-time camera operator, I did things like Big Brother, news, drama. The main reason decided to do a Masters's was to give me a step up to be a Director of Photography. I thought that the MA would bring me a lot of knowledge regarding intentional lighting. To be honest, I didn't learn much. But I've been trying to take advantage of the equipment and the instructors and the connections in making professional collaborations.
What are your thoughts on living in West End?
I think West End is the only place in Brisbane, from my experience, where you see this mix of people, and it doesn't matter what you dress, people are super chill and they respect that. I feel here it doesn't matter your gender, your skin colour.  Maybe I'm just fortunate that I've met cool people here in these communities. People who really care about each other. I think it's very supportive. But now in the last 5-10 years, it's starting to become more expensive as rent becomes too expensive, right now it is changing rapidly.
What draws you to documentaries, and what inspires you?
Since I was a kid I would watch Brazilian documentaries. This director, Eduardo Coutinho, has a very interesting approach. So I went to study journalism because journalists find a way to ask questions and I wanted to learn that for documentaries. When I told my family that I wanted to make documentaries they were like, "Are you crazy,  we are not a rich family." In Brazil, you tell your parents that you want to be an artist or make a film, this doesn't give anyone work.
I always worked, I always had a side job. I went to work as a camera guy on a cruise ship, and then I saved to pay for my university, I always had to provide for myself. Now I'm in my 30s, and working in a cafe, this is just a filler, but I'd rather have a life and try to do something. As a kid, I wanted to travel the world, but I knew my family didn't have the resources, so I got a job on a cruise ship as a camera operator and saved money.
Gilberto is based in West End and is available for commissioned projects and collaborations – check out his instagram for more.