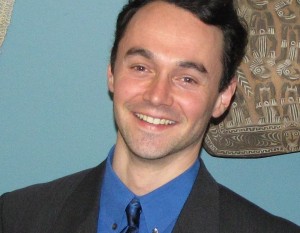 South Brisbane voters may be familiar with Karel Boele from his candidacy in the Griffith by-election in Feburary 2014. This is the first time he has contested a State seat.
When I first met Karel Boele (pronounced "Bulla") he did not have a permanent home in the electorate, in fact he was staying with friends. He has since bought a home in Woolloongabba (his first) where one of his passions is his organic garden.
Candidates who live in the electorate are affected in similar ways to the people they live amongst and for that reason, Mr Boele told The Westender, that he thinks it is important to live in the electorate in which you are a candidate.
Mr Boele is the Director of Jnana Australia which is rolling out Time Banking in NSW councils through the NSW state government. He spent time in South Africa this year on a project that aims to create a network of global complementary currency organisations.
Mr Boele would be keen to see the introduction or expansion of Time Banking in South Brisbane.
People Decide
Following the Griffith by-election, Mr Boele had initially planned to create a PeopleDecide party, but concluded that it would be preferable for candidates to stand on a People Decides, participatory democracy platform, and retain their independence. They would however work as a block if more than one candidate is elected.
A second independent, Anita Diamond, is running on the PeopleDecide platform in Indooroopilly.
Policies
If you are expecting a suite of policies from Karel Boele you will be disappointed. Mr Boele's aim is far more ambitious: he wants to convince voters that there can be a real paradigm shift in the Australian electoral system. The PeopleDecide model is one where each candidate or elected member is 'contracted' to as he puts it, to 'vote with the people'.
In this model, voters can create and contribute ideas which may lead to draft legislation and ultimately to changes to laws in Australia. Voters are invited to participate through a purpose built website.
Mr Boele says the aim of PeopleDecide is to:
"decentralise power by facilitating a group of independents to get into Parliament rather than a party".
How does it work?
While this may sound somewhat challenging, Mr Boele says it is quite straightforward. There are some issues he says on which a clear majority of the population agree. For example, in recent polling, most Australians support same sex marriage. So the response is easy. Members elected on a PeopleDecide platform would vote with the people in support of same sex marriage: not as some parties would prefer, on the basis of their consciences.
The process is more complex however when dealing with more contested issues such as policies concerning asylum seekers. Under the People Decides model, such cases would prompt a People's Forum through which the issues are explored in detail before going to a vote. Mr. Boele said that in the current policitical environment, the media and politicians often put up smokescreens and convey mixed messages that distort or hide the real issues. The people's forum model would provide an opportunity to get the essential facts onto the table. The aim of the forum would then be to reach a position that everyone can accept. But it will involve compromise.
"The solution is found by talking to people" Mr Boele said.
Independents elected on a PeopleDecide platform, Mr Boele said, "Have to really listen to the constituents, work out what's really wanted, and work with the community."
What are the voters of South Brisbane saying?
While his approach when door knocking is more about the model itself, people have raised policy issues with Mr Boele. He says that for example, it is his sense that people do want daylight saving, and that people are nervous about selling state assets. And, he said, even though there appears to be support for the VLAD bikie laws in Queensland, they are not popular with the people he has been talking to door to door.
Mr Boele says that he has spent many hours in the lead up to the election talking to people about PeopleDecide. He is continuing to get supporters, but says he needs to keep building the PeopleDecide platform and its website.
"People are genuinely interested in looking at a new form of democracy and government" he said.
Karel Boele has a Facebook site, and website and tweets using the handle @peopledecided